Do you dream of owning your own business? Workin
g for yourself…working from home…being your own boss…determining your own hours… It sounds great. But the costs and
work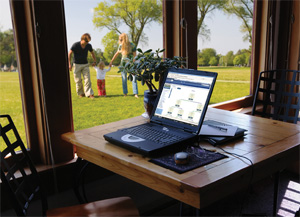 required to start up a new business can be staggering. Even established business owners find themselves chained to high overhead costs while waiting for clients to come to them.

Fortunately, there is a better option. Many have turned to direct selling to make their business dreams come true. Direct selling is the distribution method employed by USANA Health Sciences, and other network marketing companies, where products are sold person-to-person, away from a fixed retail location.
Direct Selling with USANA
Make a difference—Like working with people? Help improve the quality of people's lives.

Be part of a team—Work together toward a common vision and a common goal. Meet new, lifelong friends.

Be your own boss—Flexible and self-directed workweek. You set your hours. You control your success.

Work at home—No commute or rush hour traffic. Live and work wherever you want; your business moves with you. Spend more time with your family.

Great income potential—You are paid what you're worth. You decide how much you earn.

Immediate income—Earnings can come your first week with a realistic opportunity to earn an above-average income every week.

Lasting income—You can build a successful income-generating business that can last a lifetime.

Available for everyone—No previous experience necessary. Training is provided, allowing you to earn as you learn, regardless of age, sex, background, or education.

Low start-up costs—No franchise fees or royalties. Minimal overhead. No need to rent an office or buy expensive equipment.

No employees—No employee-related hassles or paperwork. You choose who you want to work with.

Significant potential tax benefits—Legally save thousands of dollars with home-based business deductions*.

Freedom—Your life is on your schedule and based on your priorities. Work when and how much you want, part time or full time.

USANA and the Direct Selling Association
To help ensure the highest standard of quality and ethical distribution practices, USANA is a proud member of the Direct Selling Association (DSA) in Australia, Canada, France, Hong Kong, Mexico, Malaysia, New Zealand, Singapore, the United Kingdom, and the United States. The DSA is a national trade association of leading companies that manufacture and distribute goods through the direct selling or network marketing medium. As a member, USANA is dedicated to upholding the DSA's cornerstone of commitment to ethical business practices.

DSA Code of Ethics US English
DSA Code of Ethics CA English
DSA Code of Business Conduct UK English

You can also view the DSA's consumer site at www.directselling411.com

For more information about direct selling, you can view the Direct Selling Association's consumer site or check out a series of informative videos by the Direct Selling Education Foundation, where you can learn more about the DSA Code of Ethics.

*USANA is not engaged in rendering tax, legal, accounting, or professional services. If tax or legal advice is required, please seek the services of a tax or legal advisor.

USANA Health Sciences, Inc. ("USANA") of 3838 West Parkway Boulevard, Salt Lake City, Utah 84120 USA is the promoter of this trading scheme in the United Kingdom. The goods which are sold under this scheme are nutritional supplements, body care and related products produced or supplied by USANA and any other such goods or services as USANA may market from time to time. 



It is illegal for a promoter or a participant in a trading scheme to persuade anyone to make a payment by promising benefits from getting others to join the scheme. 



Do not be misled by claims that high earnings are easily achieved.
Source: USANA Health Sciences