USANA Boxer Timothy Bradley Works His Way to the Top
---
By David Baker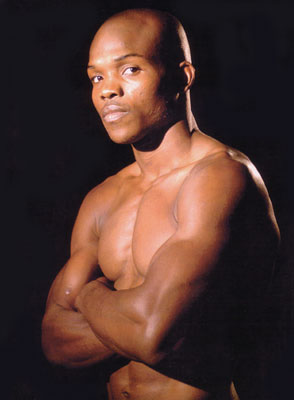 "USANA stands by their supplements…For the sports, they test it three times before they send it out. That's wonderful. So I never have to worry about taking any illegal substance or putting something foreign in my body and getting busted for something stupid."

—Timothy "Desert Storm" Bradley, WBO Junior Welterweight Champion
Timothy Bradley is in the middle of the ring, alone. He's moving. He's bouncing. His calves coil and unfurl with every spring and shuffle. But on the walls of the Boys and Girls Club in Indio, California, he is a captive—frozen in poses next to fighters that seem oblivious to their fate. Tim's is one of many faces mostly glaring from their pasted perches. But on the poster his trainer sets on a chair facing the ring, a belt draped over each shoulder frames a championship smile.

He's bobbing. He's throwing combinations. His shoulder and back muscles ripple underneath a dark grey shirt with each strike at shadows and empty space. He's familiar with throwing punches. He has a history with them. Tim fought his way through elementary school—using his fists to protect him and his sister from ignorance and racial slurs.

In fifth grade, after an invitation from a friend and months of begging his parents, Tim finally fought in the ring. "Honestly, if I would've never found boxing, I would be locked up right now," Tim says, after the work in the ring is done. "I was very short tempered. Had an attitude as a kid. Had a thug mentality. It was just seek and destroy."
Now he's claiming the canvas with quick, confident, graceful steps. The pristine white tape covering his fists flashes with each fresh flurry. Similar punches knocked out his first professional opponent in the second round back in 2004. Since then, Tim has fought his way out of the rough streets of Cathedral City, California, and into one of the biggest bouts of 2012—along the way, landing big blows against some of the best boxers in the world. And he's not done yet.

The buzzer sounds.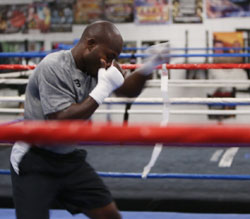 The lights are off.

The blinds are pulled up enough to allow some of the 93-degree May sunshine to stream into a room that's more kitchen than training room. Timothy Ray Bradley Jr.—fighter, champ, son, husband, father—sits on the dark green pads of a massage table.

In a month's time, things will become much more well-lit for the man they call Desert Storm. That light will take many forms: a neon glow radiating from another desert oasis—Las Vegas, Nevada, a city of bright lights and big winners
—
a bank of bulbs bathing Tim in the right amount of TV-ready light; and the single beam of the world's attention focused on the man meeting Manny Pacquiao inside the MGM Grand Garden Arena.

Tim has wanted this spotlight since he was a green fighter. He dreamed of being a Vegas headliner with his face on the chips and his name in lights. Now he's number one at 140 pounds and one of the 10 best pound-for-pound fighters in the world. Desert Storm has never been stopped in 29 professional fights. Ever since he beat the WBC Super Lightweight belt off of Junior Witter in England in 2008, Tim knew he was destined for greatness, destined for this moment against one of the best pound-for-pound fighters today—or ever.
"For 18 years of my life I've been dedicating myself to this sport," he says. "So finally the dues are going to get paid, and my family's going to be able to eat another day."

The Pacquiao fight will certainly put food on the table for Tim, his wife, Monica, and their three kids—a son and two daughters. But he is hungry for more than a meal can provide. And he says that hunger will make all the difference on June 9.

"I think there's a point where a fighter done had enough," Tim says. "He done made enough money. He's not hungry anymore. He's not determined like he used to be. I feel this is that point for Manny Pacquiao. He's lived the high life. He knows what it's like to be on top. And it becomes draining, because you've got like 50,000 people pullin' at your coattail every single day, and you just get tired of it. You just want to be a normal person. He's ready to pass the torch."
The buzzer sounds.
It brings with it more noise. The ring squeaks each time Tim backpedals and dances, and he adds the occasional grunt as he enters his final round fighting a phantom. A camera flutters as a photographer takes pictures of the action. And the voices of top-40 radio are joined by a chorus of Team Bradley members.

Joel Diaz is where you'd expect a trainer to be—leaning against the pads in the corner. He has fought phantoms and fighters, landing plenty of punches in a career that ended prematurely with a record of 17-3. Now he throws out the right combination of jokes and instructions. Tim likes to keep things light, so laughter is a prominent part of the gym's soundtrack.

Kathy Bradley is in a faded red chair maybe 10 feet from the ring. As the mother of the man inside it, she occupies a place of honor. She's usually in the gym Monday, Wednesday, and Friday, but every day is more intense, she says. Maybe that is why she's here on a Thursday, watching and sending encouragement to her son. "That's right. That's how you work." She would know. She was there when he learned how.
So was Tim's father, Ray, a former amateur bodybuilder in a matching grey shirt with "TB" stitched on his broad chest. He's neither tall nor small, a solid man draped over a top rope that sags beneath him. Tim says Ray taught him to work hard—by still making time to go to the gym after working to support the family, and with the same fatherly advice he is doling out ringside. "He groomed me," Tim says. "Now it's just a part of my life. That's all I know is to work hard."

A little later, the work continues with Ray lacing his son up. The yellow and purple gloves cause something to turn in Tim. Diaz—black Nike golf hat flipped backwards—has the hand mitts on. An icy stare flows over the gloves hovering in front of Tim's face. He bounces and pounces, his gloves generating a yellow storm accented by the violent pop-pop-pop of machine-gun thunder.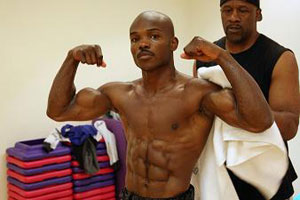 Hard work produces success

, but there's an awful lot of pain created as a byproduct. That's why there's a massage table, and the sting of menthol in the air. Monica decided Tim needed a rubdown, a tune-up. He never would've called for one himself. "I won't take care of myself," he says. "I'll just fight through the pain."

Broken thumbs, bone spurs, a broken tibia, and more. Sure there's been pain, but that doesn't mean Tim's not as healthy as a lifelong fighter can be. He believes if you don't have health, you don't have anything, and he goes to great lengths to maintain his.

Four years ago, during the training for his first title fight, Tim went vegan. One of his doctors told him to think about gorillas. Told him to think about their endurance, strength, and size. Told him to think about their diet—no meat at all. That was all Tim needed to know. During the training for each of his subsequent fights, Tim removed meat from his diet, choosing instead to spend the energy used to digest animal protein on training and outlasting opponents.

The same doctor suggested Tim try USANA. "I remember the first time I took USANA," he says. "That week, I was like, 'Wow.' My energy level was just through the roof, and I was like, 'What is this stuff? I got energy, man.' I was hooked.

"The food we eat today, it's not as clean and natural as it used to be back in the day. It has touched a hundred hands before it actually comes to the plate, and it loses a lot of its nutrients. So why not have a rebound and have some supplements you definitely can trust?"

Before the dark room, the massage table, and the menthol, Tim walks up to the edge of the ring. Shirtless, hands free from tape or gloves, a large blue towel slung over one shoulder, he flexes his abs and points to the perfect finished product of pain and proper nutrition. "USANA, dawg! USANA!"
The buzzer sounds again.
It's not the ding of a bell, but this isn't the MGM Grand, either. Outside is desert baked to a bland brown, not the flash and frivolity of the Vegas Strip.

There's no neon sign or 50-foot-billboard announcing the fight. Instead there's a white board on the wall near Joel's office. Written in black marker—with letters the same size as those used to list other Indio boxers—it reads, "6/9 Tim Bradley vs. Manny Pacquiao. Las Vegas." No circles or stars. That's it.

Celebrities aren't seated ringside hoping to see and be seen, either. A handful of onlookers in hats and shorts, and the family and support staff that make up Team Bradley are the only witnesses to the work done today. The newest member of the team is not among them. "She's trying to box too much, so I had to give her a day off," Monica tells Kathy when she asks where the baby is.

All of these things—the lights, the glitz and glamour, the signs, the celebrities, the moment, and the glory—lie ahead. Right now there's just waiting and working. Mostly the latter. When the sun goes down on this Thursday in early May, Tim will have been up since 6 a.m. He will have worked out at the track for three hours. He will have spent the afternoon training with Diaz. And he will have coached his son's football team. Thursdays are his light days, but Tim is propelled by the thought of his opponents outworking him, by the people on Team Bradley who depend on him to feed their families, and by the need to secure a future for his 9-month-old daughter, Jada.

"I'm fighting for my whole family, but that definitely is added fuel, because I gotta take care of her for the rest of her life," Tim says softly, hands knotted together at the fingers, all the boxing bravado and bluster extinguished. "Your kids grow up, but you never stop being their parent. So I definitely need to work hard and be able to secure our future and their future so they don't have to do what I do—so they can have a better life."


Watch Tim Bradley on June 9th on HBO Pay-Per-View, and make sure to tweet and Facebook about it. Check out USANA social media—including What's Up, USANA?—for on-site Bradley-Pacquiao fight coverage. Also check back for a fight recap and an in-depth look at the big fight on USANAtoday later this month.

*These statements have not been evaluated by the Food and Drug Administration. This product is not intended to diagnose, treat, cure, or prevent any disease.

**USANA proudly sponsors Timothy Bradley with complimentary USANA products.