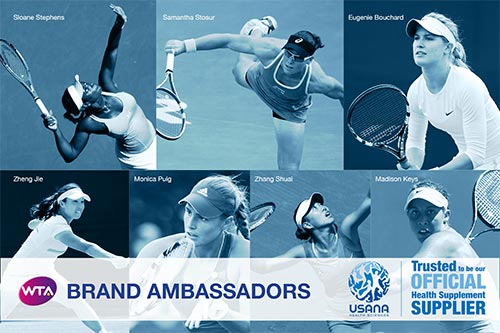 USANA and the WTA's partnership has been a considered a perfect match since it's inception in 2006, so it makes sense that USANA would remain the Official Health Supplement Supplier of the WTA another three years, and continue to provide its NSF and HFL-tested nutritional products to more than 160 WTA athletes, including 14 athletes in the WTA Top 20, and seven of the Top 10.

"We are thrilled to continue our relationship with USANA for another three years," said WTA Chairman and CEO, Stacey Allaster. "In 2006, the WTA searched for a company that would fulfill a longtime request by players for nutritional supplements that are guaranteed to be free of banned substances on the WADA Prohibitive List. USANA stood out among the others as an organization that felt so strongly about the quality and purity of its product, and we look forward to our continued partnership with this great company."

The upgraded terms also include more ambassadors and sponsorship of nine WTA events across all regions of the world, including the year-end WTA Championships in Singapore, to better reach USANA's 19 international markets.

Key Players

With the extended agreement, USANA welcomes an international roster of Brand Ambassadors that will represent USANA, on and off the courts.*

"I know that I can trust USANA's products because I know what I'm taking is safe and pure," said Stosur. "I'm thankful for our strong partnership and am proud to be one of the 600-plus elite athletes who trust their health to USANA."

Serving Others

USANA and the WTA also launched its inaugural "Aces for Humanity" campaign to help raise awareness and funds for the USANA True Health Foundation. Beginning this week at the BNP Paribas Open in Indian Wells, every ace served at Premier-level WTA events will translate into a $5 donation to the foundation; $10 per ace served by an ambassador.

Get Social

For more information about USANA's athletes and partnership with the WTA, head over to What's Up, USANA? and follow Team USANA on Twitter and Facebook.



*The mentioned athletes are either distributors or dedicated users who have received compensation for their partnership and/or complimentary USANA products.