Meet The Founder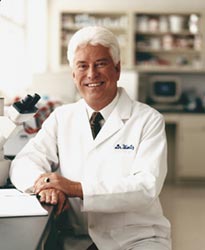 "I dream of a world free from pain and suffering. I dream of a world free from disease. The USANA family will be the healthiest family on earth. Share my vision. Love life and live it to its fullest in happiness and health."
-Dr. Myron Wentz, Founder and Chairman, USANA Health Sciences
To learn more about Dr. Wentz and all of his visionary endeavors, visit his Web site
www.DrWentz.com
Dr. Myron Wentz, internationally recognized microbiologist, immunologist, and pioneer in the development of human cell culture technology and infectious disease diagnoses, holds a bachelor's degree in biology from North Central College in Naperville, Illinois, a master's degree in microbiology from the University of North Dakota, and a Ph.D. in microbiology and immunology from the University of Utah in Salt Lake City.
Joining a pathology group in Peoria, Illinois, Dr. Wentz served as infectious diseases specialist and directed the microbiology and immunology laboratories for three hospitals in the Peoria area. After three years of clinical experience, he saw an opportunity to make a deeper contribution to medical science by developing much-needed tests for viral diseases.
Dr. Wentz launched Gull Laboratories as a one-man operation in 1974. By June of 1977, several of his viral diagnostic assays were FDA-approved and ready for marketing to hospitals and clinical laboratories. He developed the first commercially available test for diagnosing infection with the Epstein-Barr virus. Dr. Wentz sold his controlling interests in Gull Laboratories in 1992 and founded USANA Health Sciences, a state-of-the-art manufacturer of nutritional supplements, foods, and personal-care products.
Even though his businesses have been extremely successful, Dr. Wentz first and foremost considers himself to be a scientist, not a businessman. Nonetheless, Dr. Wentz' business acumen has been recognized through a presidential appointment as an advisor to the Small Business Administration and as a 2003 recipient of the Utah Ernst & Young Entrepreneur of the Year award.
In addition to Gull Laboratories and USANA Health Sciences, Dr. Wentz created Sanoviv Medical Institute, a holistic medical facility with full hospital accreditation located in Baja California. In recent years Dr. Wentz has turned his attention to charitable and humanitarian concerns, founding the Wentz Medical Centre and Laboratory in Uganda and the Wentz Medical Centre in Cambodia to serve children in those countries orphaned by diseases such as malaria and HIV. In 2006 Dr. Wentz was a recipient of the Children's Champion Award, presented by the Children's Hunger Fund, for which he travels worldwide as a medical missionary. In 2007 Dr. Wentz was honored with the Albert Einstein Award for Outstanding Achievement in the Life Sciences.
While Dr. Wentz' primary focus is on health and disease prevention, his love for music and his generosity have made possible the Wentz Concert Hall and Fine Arts Center at North Central College in Naperville, Illinois.